Impact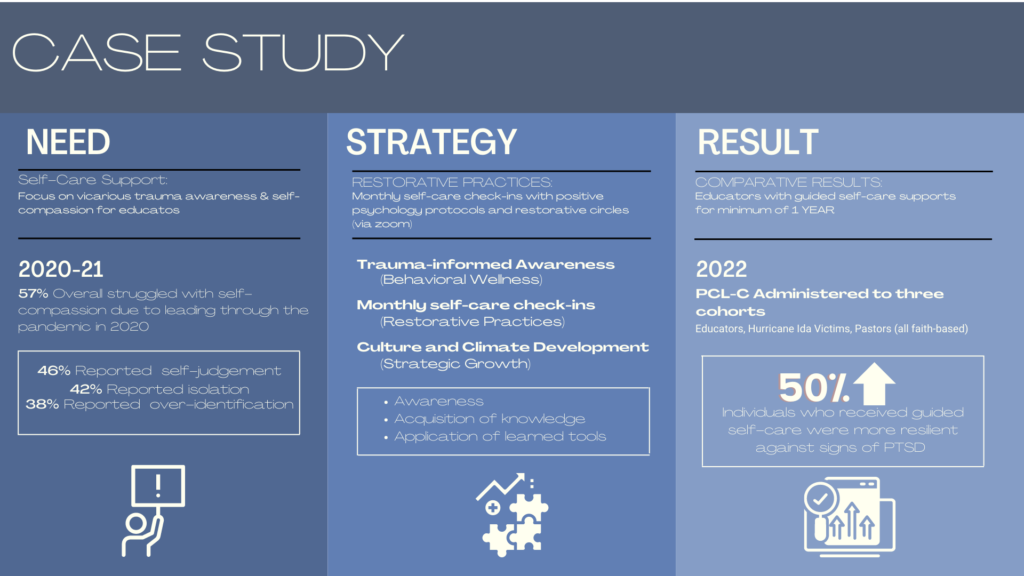 Our clients are people and organizations that want to increase their ability to function under stressful conditions and ensure their espoused values are their values in use!
The 3As origins…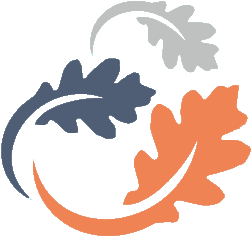 AWARENESS – that there is a problem is the first step. We conduct assessments, deliver presentations and workshops to identify stressors and trauma faced individually and organizationally.
ACQUISITION – Acquisition of knowledge concerning the problem. After we know where we are, we now need to know how to move forward; the next step is to provide the tools needed for sustainable change.
APPLICATION – The last step in our process consists of providing ongoing coaching in applying the newly acquired knowledge. in this step, we use relationships and opportunities, not presentations, to achieve results.
Did You Know?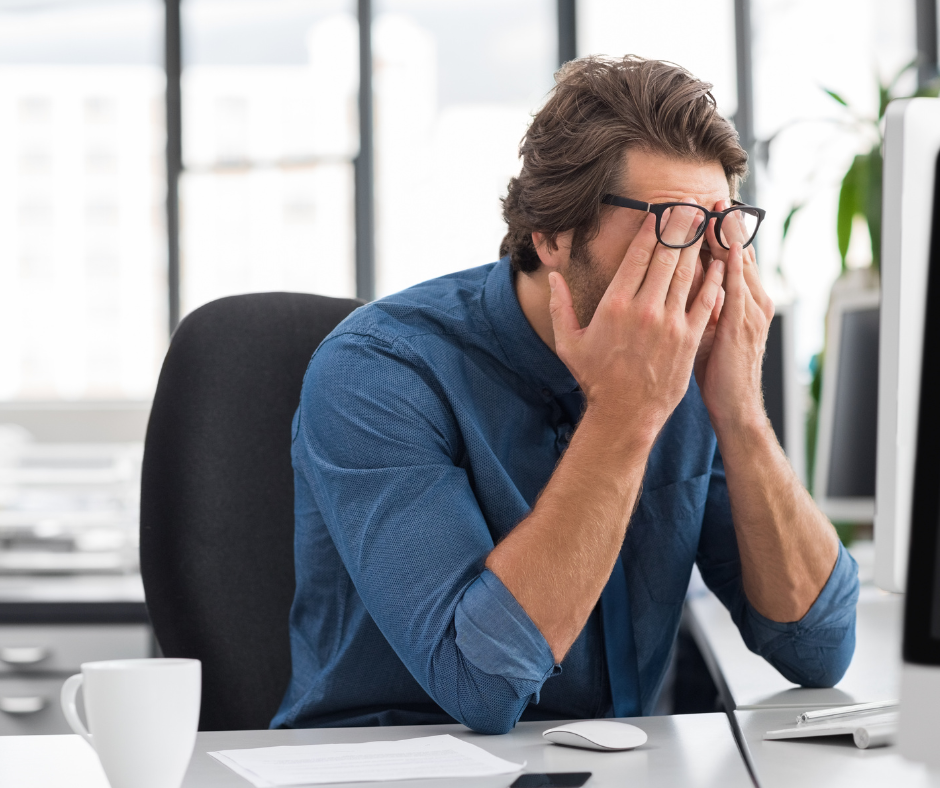 In October 2019, the World Health Organization sent out a shocking press release that not many people read or even knew about.
This press release stated: "Mental disorders affect one in four people. Treatment is available but not being used. One in four people in the world will be affected by mental or neurological disorders at some point in their lives. Around 450 million people currently suffer from such conditions, placing mental disorders among the leading causes of ill-health and disability worldwide."
Organizations are only as healthy as the people working in them. This is why we specialize in guided self-care, self-compassion, trust leadership and conflict resolution. Helath and wellness of the people followed by strategic transformation of culture and climate.
The 3As
Since we specialize in transformational change for individuals and organizations we needed a framework that would work for both. By combining the expertise of our original partners; project management with Darryl E. Allen, behavioral wellness with Dr. H. Jean Wright II, and restorative practices with Cliff Wright Jr, the trio settled on the cognitive behavioral change method discussed in Dr. H. Jean Wright II's book entitled "Find Strength in Your Struggle: Discover the Miracle in You".
Over the past three years, the 3A framework has allowed us to build relationships with our clients by accomplishing the following three things. First, it allows us to enhance organizational best practices and the individual's views of their role in society. Second, we are able to lead transformation efforts when conflict is identified or equip individuals and teams for when it appears. Lastly, we are able to teach people how to continuously practice restoration efforts not only for the organization but for themselves.
Billions of people are dealing with behavioral health issues every day. You cannot have a healthy organization that is diverse, equitable, inclusive, and where people feel like they belong and have access to what they need if the people in that organization are not intentionally focusing on multiple aspects of overall behavioral wellness.
Online Course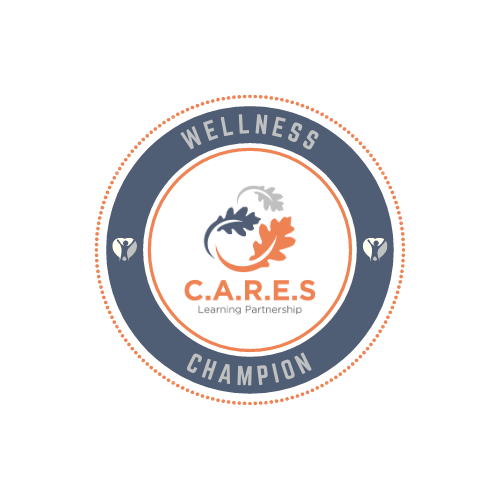 Wellness in the 21st Century
The CARES Learning Partnership's introductory course is a great way to experience the type of courses we offer. It includes easy-to-use tools to improve your awareness about in impact of stress and how wellness impacts our lives.
COST: $149.00
Our Approach
CARES Learning Partnership's commitment to behavioral wellness, strategic growth, and restorative practices began in 2014. We started with our anti-bullying efforts and social-emotional leadership. Our tools are steeped in equity, aligned with brain research, and considered trauma-informed practices.  We do more than just deliver training – we provide structured coaching, mediation, e-learning, and support as leaders, administrators, staff, teachers, students, and families develop restorative skills. This includes a wide range of tiered restorative tools addressing the continuum from prevention to intervention in order to create an entirely restorative culture and approach.
We believe training without follow-up is malpractice. To prevent our training from becoming binders sitting on a shelf in an office collecting dust, we recommend that training is followed by opportunities for consulting, debriefing, coaching, and support. These recommendations are based on the best practices as defined by Scrum Manifesto and have been incorporated into our model for working with partners for a recommended period of 1-3 years. Time for relationships to assist in reflection and revision are built into the process, two of many critical components in an effective plan. Although we are able to be flexible with scheduling, we strongly encourage a deeply rooted commitment to establishing and sustaining a restorative culture.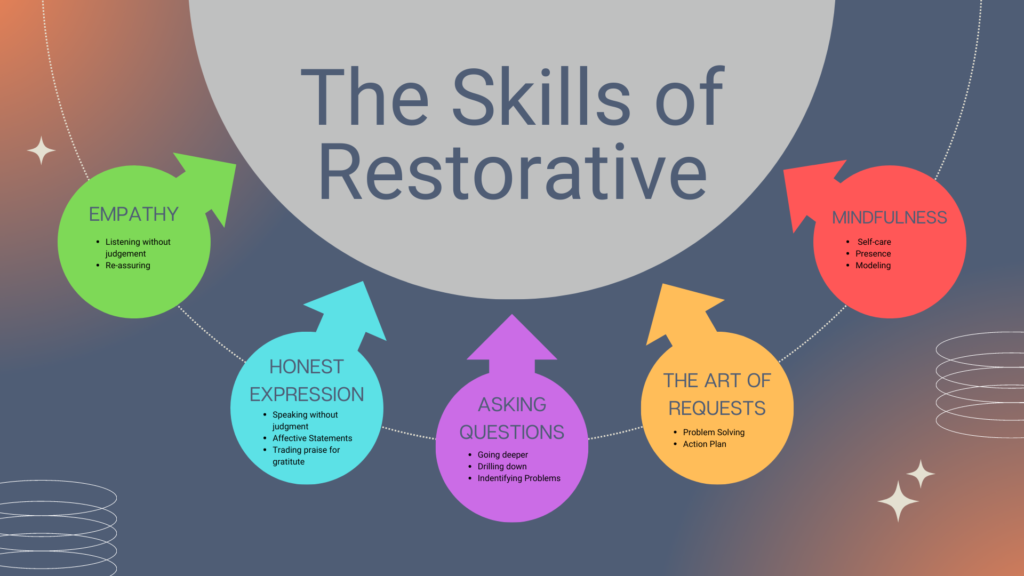 Flexible Options
We listen to feedback. We reflect. We respond. A concern shared with us on a regular basis has been that the sustainable implementation of Restorative Practices requires time, the most valuable resource for a leader, and certainly for an educator quite often, more time than is readily available.
Another common concern is that budgets, funding, and access to resources vary greatly. In response to these challenges, we have designed and now offer a Blended Learning framework that provides professional development and coaching with online prework, in-person facilitation, and virtual instruction. We have pricing options that provide services from the least to the most intensive to meet a variety of needs in a cost-effective manner.
Fidelity
Our Focus is RELATIONSHIPS
Sequential Roll-Out
Our approach typically follows these steps in order to ensure meaningful collaboration, consistent growth, and sustainable change. Additionally, we start our work with foundational principles that begin with the location of "self" before a direction can be created for a team.
01.
Assess needs and strengths & priorities
Our initial work begins with developing an understanding of what is already in place. From there, we determine areas of need and leverage strengths in pursuing efforts toward growth. Helping Partners determine who they are as individuals and where they are as an organization/team
02.
Identify the Champions
Restorative culture is one of collective leadership and consistent refinement. Informed by the best practices of interpersonal and intrapersonal growth. We work with school leadership, teachers, staff, and communities, weaving restorative principles with existing initiatives to craft a customized plan to assure success for all.
03.
Professional Development & Implementation Support
Our interactive learning sessions are followed by regular coaching and debriefing. While we train-the-trainer we are cultivating relationships to help administration, parents, students, and school staff hone their new restorative tools and mindset. All become conversant with restorative language and capable of facilitating restorative processes.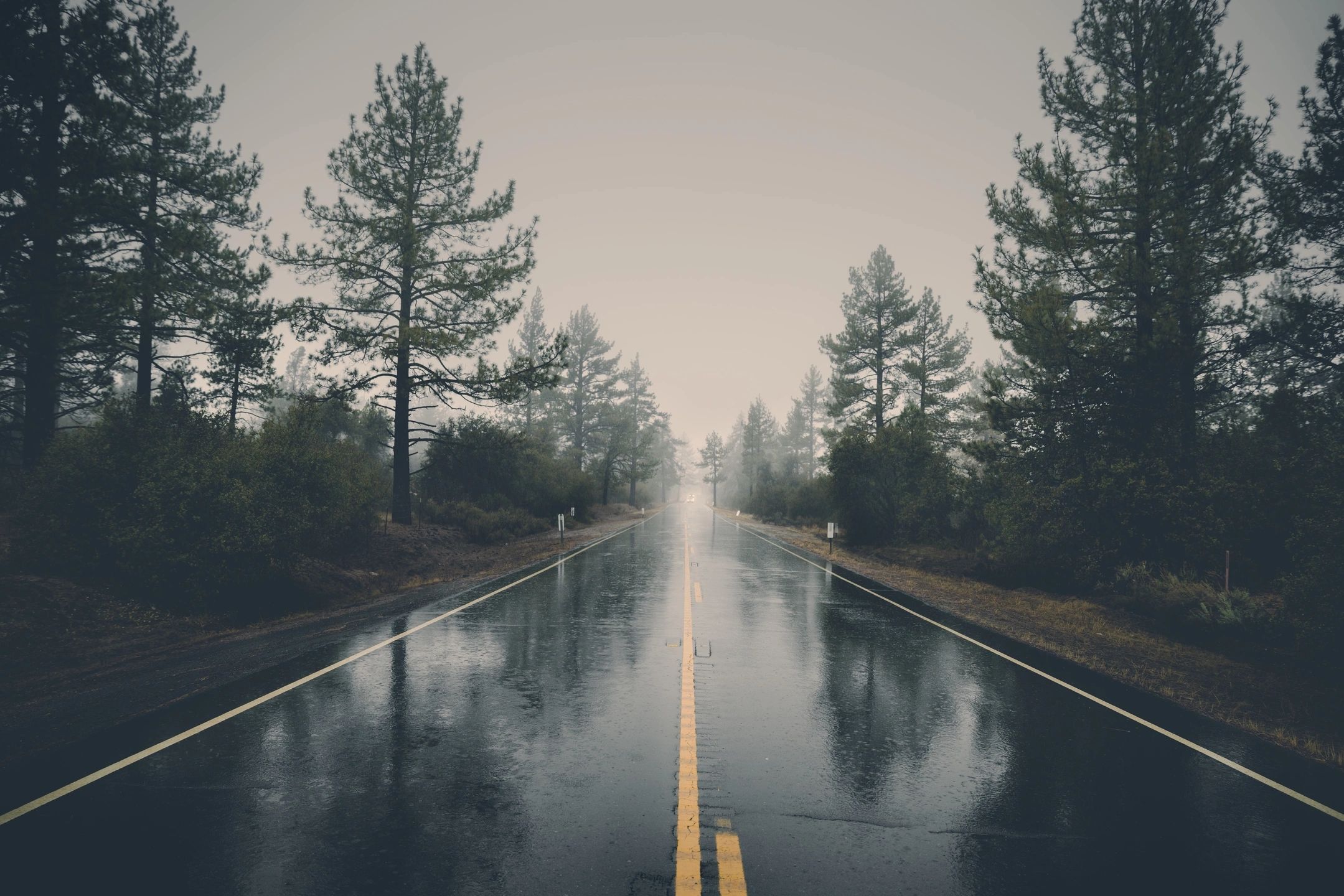 Enhance, Transform, Restore
RELATIONSHIPS
TAKE THE FIRST STEP
START HERE